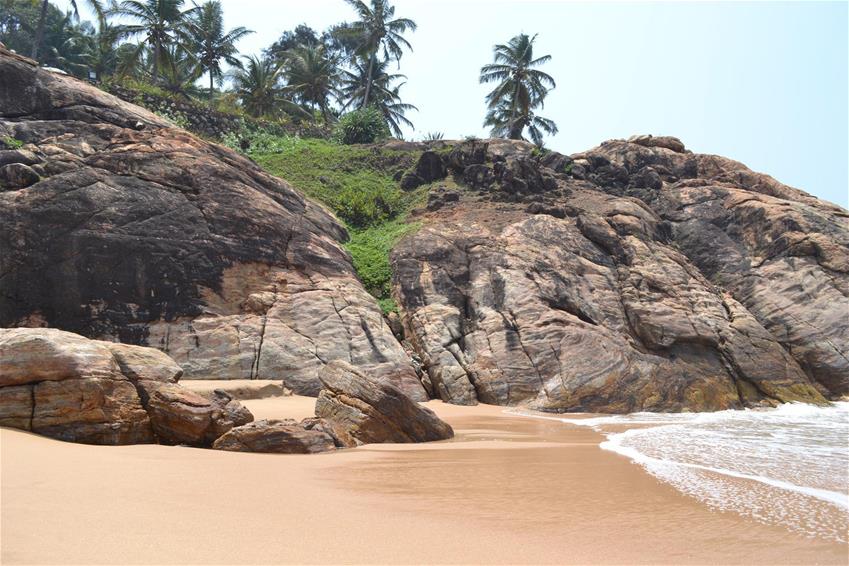 On the back of a colleagues invitation to his wedding in Kerala myself and my husband decided we would use it as an excuse to go for our first India holiday together.
The first thing we loved about the trip was that the flight from Dubai to Trivandrum was only 4 hours!! We arrived around 3am and after a swift immigration process we were out in no time and into our hotel transfer.
Being the middle of the night the roads were clear and we really had no clue of our surroundings. The taxi suddenly pulled down a tiny pot hole filled road up to a large wooden gate. We looked at each other and asked him if he has taken a wrong turning. Suddenly the wooden gates opened and we were embraced by the sound of waves crashing against steep cliffs and a driveway into tranquility.
The retreat we stayed in is called Niraamaya Retreats Surat Samudra. The resort is made up of individual cottages set on the cliff top overlooking a gorgeous private beach accessible by a steep set of stairs. The next few days were spent eating the freshest and most gorgeous curries, drinking coconut cocktails and lazing by the dreamy infinity pool. We did escape the resort on a tuk tuk to explore the local area where you will find some small Hindu gems. We absolutely loved our stay.
The next stop was in Trivandrum for the wedding. We stayed in the Taj Hotel, which was a lovely city hotel with a nice regal feel to it. After a fabulous wedding we headed north to our third destination of Kollam to stay at the Raviz Hotel.
The Raviz Hotel is a step back into a colonial style Hotel with beautiful grounds set on the backwaters of Kerala. Lazing by the pool reading out books listening to the birds catch fish from the backwaters was bliss. Of course the curry was again delicious and even the evening local dance routines were very impressive, especially the contortionist!! We did venture out on one day onto the backwaters to try our hand at fishing (not much caught) and to explore the jungle encroaching landscape.
Overall we had a wonderful 10 days in Kerala and would highly recommend you visit. One area that did test my nerve was the 4 hour drive from Trivandrum to Kollam. Sometimes it will be a bus, elephant or a horse and cart coming flying towards you on the wrong side of the road. Either way I was very happy when we reached our destination!!
If you like colour, beach, curry and some piece of mind a trip like this should be on your bucket list